TRUPPE CAMMELLATE
Primo elenco di (altre) truppe cammellate ,più o meno anonime , che operano in parallelo o in soccorso di E.Fabri imbufalito perchè non può dare alcun dato sperimentale circa l'inesistente campo magnetico della corrente di spostamento.
E.Fabri è uno che la fisica la sa J  http://www.asps.it/non_attacca.htm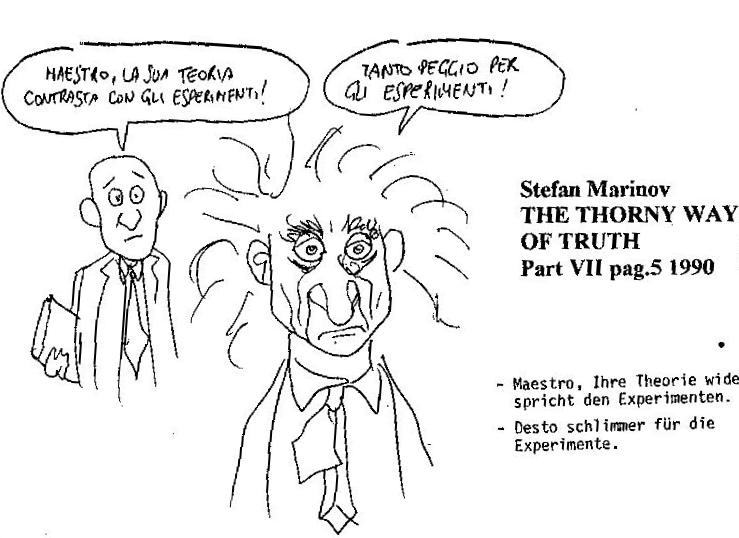 Avendo costruito più di 140 anni di fisica elettrodinamica su un ente fisico matematico che non c'è ora i mateficentometrici si incazzano molto che qualcuno gli ricordi sistematicamente l'ente estetico matematico che non esiste a livello sperimentale www.asps.it/azione.htm  www.asps.it/deficentario.htm
Del resto la cosa estremamente comica è che se da decenni non si trova il bosone di Higgs da più di 140 non si trova il campo magnetico della sedicente corrente di spostamento J
http://www.asps.it/miller.pdf

http://www.asps.it/miller00.pdf

......
it is impossible that flow of the electric field produces the induced
magnetic field..............

http://ieeexplore.ieee.org/Xplore/login.jsp?url=/iel5/6228/16640/00768360.pdf?ar number=768360


.......... There have been many attempts to
demonstrate the interpretation that Displacement Current leads directly to a
magnetic field. None have proven it. The most exhaustive used cryogenics to
attempt to prove the Displacement Current--->H idea. It failed to do so.
...........

http://www.mombu.com/science/physics/t-displacement-current- demonstration-4546588.html

<![if !supportLineBreakNewLine]>
<![endif]>
La cosa più devastante è che i mateficentometrici istruiscono e laureano nuovi fisici su cazzate filosofiche inesistenti facenti parte della loro ideologia autoreferenziale.
Sono il ramo ideologico mateficentometrico della facoltà di filosofia imboscato nelle facoltà di fisica :-)
Ecco il primo elenco di coloro che non rispondono mai con documentazione sperimentali al sillabo chiamato "Equazioni di Maxwell"  …. ma o insultano non sapendo cosa dire o invocano censure e silenzi come E.Fabri sperando che  prima o poi passi "a nuttata".
"ViLco" <villiber@tin.spam>
"cometa_luminosa" <alberto.rasa@virgilio.it>
"nicolino" <magn.k#vjkdj@iuii.oi>
"Ubachef" <solofuffa@hotmail.com>
"Pedro Peraria" <PedroPeraria@peritopereira.com>
"SILVEA" <aaa.kkk@oo.it>
"pope" <davvero@mail.it>
"Bhisma" <Af.bhisma@gmail.com>

<![if !supportLineBreakNewLine]>
<![endif]>
Prima lista dei fans del fantasma di Maxwell evidenziati in www.asps.it/mito.htm
www.asps.it/pastore2011.htm
Archaeopteryx e White Atheist Shit